Intermediate IRP Finals Evening
Last Wednesday, the Intermediate Independent Research Prize (IRP) came to its climax with a splendid virtual evening before an audience of 70 spectators. 
Over the summer, pupils in the Fourth and Fifth Years were invited to choose any academic topic, to discuss a question with their teachers and to spend the holidays researching in depth to produce an essay or similar submission. Over 40 pupils – a record number – elected to enter the competition initially and the standard was quite phenomenal. Comments were canvassed on each entry from subject specialists and collated by a small judging panel. It was often remarked that many of the submissions would not have looked out of place in the Senior (Sixth Form) IRP competition. All full list of entrants and prize winners is attached.
The six finalists had therefore already beaten off tremendous competition to stake their place in Wednesday's final. They all presented with panache and confidence, but much more importantly with obvious passion and deep knowledge beyond all but the very best Sixth Formers. Perhaps most impressive was the way in which they handled difficult questions which came in from staff, parents, pupils … not to mention a consultant neurosurgeon and a Oxford don!
It is no platitude to say that any of Noah, Alice, Anastasia, Holly or Iris might easily have won on another year, but Alex's exceptional research into the advanced mathematics and coding of graph colouring problems eventually secured for him a narrow if thoroughly deserved victory.
The competition and the evening itself were, without doubt, one of the most impressive manifestations of Caterham's academic life I have ever seen. 
Mathew Owen
Senior Enrichment Tutor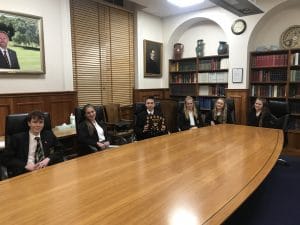 Back to all news