Last Call for Entries Photography Competition
The annual Caterham Charity Photography Competition is open for entries with a closing date of Friday 4 October. This year your £2 entry fee will be going towards helping the World Wide Fund for Nature (WWF). The competition is open to all pupils at the Prep School and Senior School in addition to staff, parents and Old Cats!
Pick up an entry form from the senior school Art Office in A54 plus forms are also available from Prep School tutors.  The closing date is 4 October at 5.00pm. There will be an event in the Christine Walker Gallery on Monday 14 October where shortlisted work will be exhibited and prizes will be awarded for the winning photographs. Good luck – we look forward to seeing your entries soon!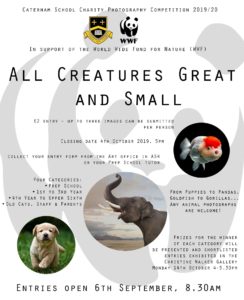 Back to all news