Lego Learning for Libraries Week
Libraries Week is an annual opportunity to celebrate the nation's libraries, and in 2019 the focus is on the role of libraries in the digital world.
Various events across the country have highlighted how libraries are engaging communities through technology by building digital skills and confidence, and encouraging digital participation and inclusion. We joined in at school with a Lego competition to Build the Library of the Future. Teams from across the school created Lego masterpieces incorporating drones and automated vehicles for people and book delivery, a helipad and a library in space. The buildings included zoned areas for work and quiet reading, a rooftop thinking space, a screening area with surround sound, a working elevator for easy access, vending machines, a cafe, a garden and lots of books.
Competition entries were submitted by Twitter (@LibraryCat) and are being judged by library champion and mathematician Bobby Seagull.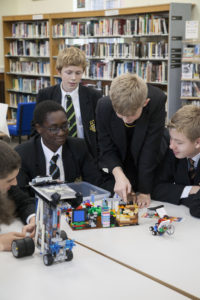 Back to all news