Lindsay Shilling joins our Visiting Music Teachers
The Music Department is excited to welcome a new member to the team of visiting Music Teachers, Lindsay Shilling, who has vacancies for any pupils wishing to start learning the trombone. 
Lindsay is currently Principal Trombone at the Royal Opera House, Covent Garden, Principal Trombone for London Brass and Professor of Trombone at the Royal College of Music. Past positions include Principal Trombone at the London Philharmonic Orchestra and Sub-Principal Trombone of the London Symphony Orchestra. 
As one of the leading trombonists in London, Lindsay's performing career has also led to recording a number of soundtracks for TV and films such as Red Dwarf, Judge John Deed, Astro Boy, The Golden Compass, Sweeny Todd, The Da Vinci Code, The Lord of the Rings trilogy, Gladiator, The Matrix, Chicken Run and Harry Potter. 
More details and a comprehensive biography can be found here
Please do contact the music department if you are interested in lessons for your child with Mr Shilling or any of our Visiting Music Teachers.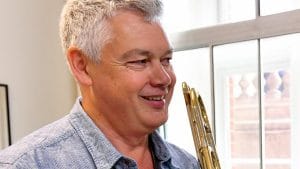 Back to all news