London Pulse & Netball International, Lefebre Rademan Leads Skills Session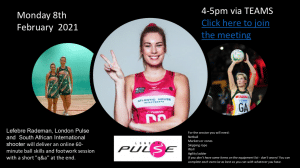 On Monday 8 February at 4.00pm, we are very excited to be joined by Lefebre Rademan, London Pulse and South African International shooter who will be delivering an online 60-minute ball skills and footwork session via Teams.The session will be followed by a chance to ask Lefebre some questions.
For the session, you will need: netball, markers and cones, skipping rope, a wall and an agility ladder (If you don't have some of these items – don't worry. You can complete each exercise as best as you can with whatever you have.
Click here to join the meeting 
Back to all news