National Schools Equestrian Final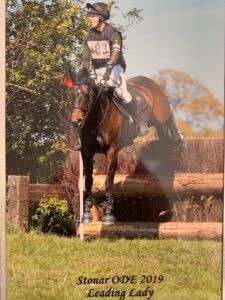 Fourth Year pupil Ed Daniell has been flying the flag for Caterham school as part of the equestrian eventing team with his two horses Gizmo and Leading Lady. Training for the event began back in the autumn and by May both horses and rider were fit and ready to compete – kitted out in the new Caterham School colours.
Eventing consists of three phases: dressage – where precision, harmony and obedience count with points awarded for every movement; show-jumping – which involves jumping over a course of coloured fences; and lastly cross country – where a course of large natural obstacles are jumped over at a gallop within an optimum time, bravery needed for both horse and rider.
On 11 May, Ed, his support team, two horses (and the dog!) travelled from South Godstone to the beautiful setting of Stonar Equestrian School in Wiltshire; one of six regional qualifying events held around the UK, to battle it out for a place in the National Schools Final.
Against stiff competition Ed and Gizmo had the second best score after the dressage with just a half a point between him and the leader. Although nerves were high for the final phases, he rode a careful, clear round in the show-jumping followed by a cracking clear round cross country, galloping to finish just within the time.
Ed and Gizmo now go forward with the top four teams and individuals from each regional to compete for the National title in September. A fantastic achievement!
Back to all news