Old Cats Share Uni Journeys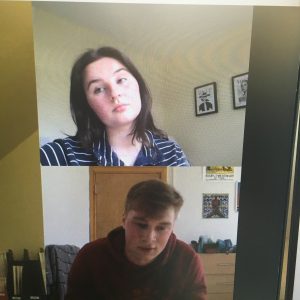 On Tuesday this week, the Careers department were delighted to welcome Old Caterhamians, Georgia Tuckett and Will Buxton, to talk about their university journeys since leaving Caterham in 2019. As you can imagine, they have had a rollercoaster over the last eighteen months, with a very varied teaching offering. Georgia, who is studying History at the University of Exeter and Will, reading Business Management at the University of Leeds were very candid about their experiences, offering some really well considered top tips on what our Lower Sixth pupils should be thinking about and researching as they begin their next steps. Below are some highlights of their talks but you can also find the full recording here https://vimeo.com/539545109 and on the careers pages of Firefly.
Consider all options, not just the traditional university route – whilst Georgia decided university was the path she felt was right for her, Will has some regrets about not considering the apprenticeship route more seriously as he feels it might have been a better option for him. Look at what is right for you, don't follow the crowd.
Choosing a subject – pick a subject you are willing to put the work in for! You will be more likely to make an effort if you are studying a subject that you are engaged with and interested in. If you haven't got a particular career path in mind, research job opportunities to ascertain if there are any particular degree subject requirements. Make use of Prospects https://www.prospects.ac.uk/, especially the What can I do with my degree? https://www.prospects.ac.uk/careers-advice/what-can-i-do-with-my-degree section where you can investigate the career paths that are relevant to your chosen subject.
Personal Statements – ask lots of people to look at it but be careful with the advice that you finally use when you finesse the final version. It is your personal statement and it needs to reflect who you are.
Choosing your university – very personal on location but think carefully about grade requirements and make sure you have a sensible and realistic back-up choice. Do you want a vibrant campus close to a city or a more rural site. Would you feel comfortable being there for three or more years. Look at the support mechanisms available.
Preparing for uni – learn to cook the basics and clean!
Lectures are quite a different experience to school lessons. If you can access the slides before the lecture, it is a good idea to make notes so that you can focus on what the lecturer is saying in order to add depth to your learning.
Ask questions – make sure you speak to your network of contacts about their experiences. This might be through Caterham Connected and the Old Cats network, speaking to staff at school or using your family network.
Get involved! – look closely at the clubs, societies and sports on offer. What is important to you? Great place to make friends.
Meeting people – meeting a much more diverse group of people from different cultures and societies. It can be challenging and exhausting but it teaches how to work and communicate with people and reflects on the world outside of school. On your first day, prop open your room door so that people can see you and come and say hello!
Try something new! – Georgia joined the surfing society and Will went for yoga, the most popular club at Leeds!
Be true to yourself – focus on people who make you happy and allow you to be yourself.
It is okay to be terrified and overwhelmed! – this is completely normal and everyone is in the same position – it won't last for long but if it does, make sure you approach student services for help.
Don't let your work slip – stay focussed and avoid bad habits.
Back to all news