Partnerships: a Busy Summer of Access
The beginning of our summer break saw 32 Lower Sixth Form and Fifth Year pupils spend the first two weeks of their holiday volunteering in our local partner schools: Furzefield, St John's and Audley, and at Kingsford Community School in Newham. This was just part of a full programme of partnership courses and activity days that took place over the summer.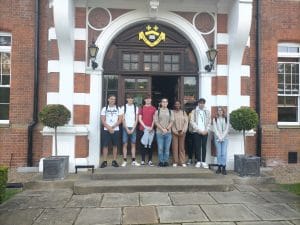 Summer Aspirations and Access Course
During the summer Caterham School has been working with Warlingham School to devise a course to raise aspirations amongst students who are '1st generation' university, and from backgrounds that may present barriers to social mobility. The schools collaborated to run a three day course involving inspirational sessions from lawyers, financiers, a screen writer and an IT security expert.  These were complemented with activities to raise aspirations and self-belief more directly – conducted by 2 -3 Degrees, teamwork and leadership tasks, and specific UCAS advice and application support.
 A recent ASCL survey of teachers found that 57 per cent identify 'low aspirations' as the most difficult challenge. 
Changes to perception towards Higher Education and careers were measured and evaluated using the ImpactEd platform.  Qualitative feedback was positive with the range of sessions appealing to the diverse student group.
'I found the sessions inspirational, especially the lawyers panel, and I am thinking about my UCAS application more seriously'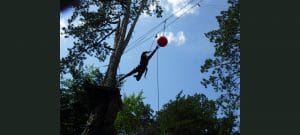 East Surrey Learning Partnership Activity Days
In July, Hillcroft, St John's, Audley and Furzefield Primaries took part in activity days with their Year 6 pupils organised at Caterham School.
The days were designed to provide a collective experience, combining outdoor learning with sport, to develop social skills, team work, leadership, self-confidence and a positive attitude to learning, and run by Caterham staff and staff from the participating primary schools.
The ESLP collectively identified a need following the cancellation of residential trips for Year 6 pupils due to COVID.
280 Year 6 pupils were able to benefit over four days.
'At Caterham School I enjoyed jumping off the tree trying to hit the red buoy.  I also enjoyed being blindfolded this made me trust people in my group more.'
United Access Programme
We held the final event for our current University Access cohort, which has targeted first generation, high achieving, pupil premium students.
Students receive help and support from university mentors throughout the programme. They also receive tailored support from participating school's staff during residentials alongside sessions/workshops around applying to university.
The four year programme was designed to address the main barriers to University experienced by low income students, with strong academic potential, and involved 6 united learning academies, Caterham School and the Accelerate and Access Foundation.
The majority of the participants are moving on to University and all are feeling well prepared by the program for the next stage of their lives.  One is off to study in the US with a sports scholarship, with the others having the confidence to move out to university including courses in animation, Physics, Finance, Psychology, MFL with two including Mandarin alongside a European language. 
You can read more about the United Access Programme here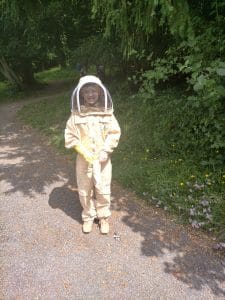 Audley Primary visit to the Bees!
In July,  the Eco Council from Audley Primary School joined Mr Tyldesley for the day to visit our bees face to face.  The bees wore their Caterham rugby shirts for the occasion.  This was followed up with some laboratory learning around the lifecycle and activities of the bees.
Caterham Student Volunteers
32 Caterham Lower Sixth Form and Fifth Year pupils spent the first two weeks of our holidays volunteering in our local partner schools; Furzefield, St John's and Audley, and at Kingsford Community School in Newham.  Despite some COVID disruption our pupils had a great time and made valuable contributions as extra pairs of hands, helping out in the classroom and with trips and activities.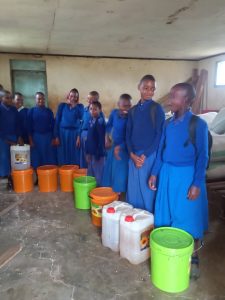 Lerang'wa Lunches
Supplies arrived in Lerang'wa ready for the start of the new school year in July. The lunches are funded by our Lerang'wa Lunches charity and are now more important than ever.  The lunches provide a stable diet for the vulnerable community, allowing the pupils to attend school regularly and concentrate while they are there.  Thank you to everyone who has contributed to the many events and donated!
Back to all news