Pro Corda National Chamber Music Festival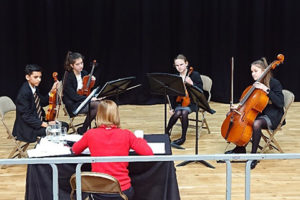 Wednesday morning's Pro Corda National Chamber Music Festival opened with an explosive performance from Caterham's Scholar Ensemble's Sorcerer's Apprentice which received excellent reviews. 
This was swiftly followed by a lovely and sensitive performance from the Brass Ensemble with a medley from The Greatest Showman.
The School's Senior String Quartet made an excellent impression with their striking performance of Prokofiev's Petrushka, whilst Mr Hall's String Quartet showed a sensitive side to Purcell's Chaconne.
Just when we thought it could not get any better, the Senior Piano Trio gave an outstanding performance leaving the adjudicator speechless.
To finish the full day of recitals and music workshops, the two latest additions to Caterham's vast and expanding music family took to the stage.  Caterham's Horn and Trombone Quartet performed a lovely rendition of Beethoven's Drei Equali,
The adjudicator had only one thing to say about the new Caterham Corp of Drums. In her own words "This was fantastic!"
So all in all, a very successful day for the music pupils at Caterham school with seven of our music ensembles entering and performing to an extremely high standard in the Pro Corda National Chamber Music Festival.
Adjudicator's comments about the musicians of Caterham School: "Excellent Ensemble", "Excellent Communication", "Excellent Preparation", "Excellent Performance", "This was FANTASTIC!"
Back to all news