Readiness Course for Upper Sixth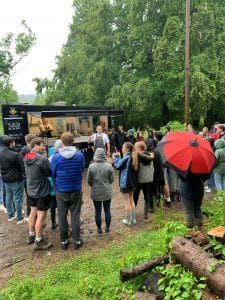 Activism, academic exploration, managing finances and even woodland cooking in the midsummer rain were all part of week 1 of the Readiness course which ran this week for our Upper Sixth Form pupils.  A packed programme has seen pupils enjoy courses led by HSBC, Old Cat Rory Moore and Chartwells Catering as they celebrated the end of their formal academic time at Caterham School and looked towards their future at university and beyond.
Dr Avery, Director of Sixth Form, said: "This week has been brilliant for ensuring our pupils can spend productive and social time together in a year where connection across the year group has been limited by Covid. It's been energising for the pupils to explore a range of topics with external session leaders and to start thinking about their life beyond school in September. Thank you to our pupils who have got stuck in to each of the sessions – we're looking forward to next week!"
The Readiness course continues next week as we build up to the final farewell to this year group who have shown such resilience throughout the year.
Back to all news