Rocket Car Challenge: First Year STEM Project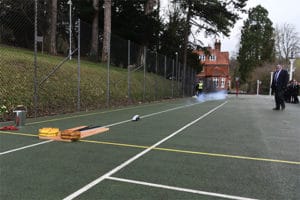 Rocket powered cars were once again seen travelling at incredible speeds across the netball courts on Monday afternoon as pupils in the First Year competed in the Race to the Line Rocket Car Challenge. They have been working on this STEM project for the past three weeks, learning about the aerodynamics in science, programming the timing system in computer science before designing and making their cars in 3D design.
In 3D design they were put into groups of four and brainstormed ideas for their car design, keeping in mind the size restrictions. When their group had agreed on a final design they set about creating their car from bio-degradable foam blocks. The winners will be going through to the Regional Finals held in May.
The winners were Team Flash, comprising Isabelle, Jakob, Harry and Zoe with a time of 1.57 seconds for their car to travel the 25M track, giving them a truly impressive average speed of 57.3 km/h. They will now progress through to the regional finals next term.
Back to all news