Singers impress in the community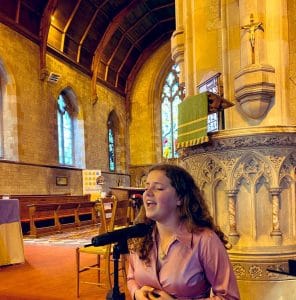 St. John's Church, Caterham was alive with the sound of music in an impressive display of vocal talent from Caterham School as part of their Open Heritage Day. With everything covered from early Baroque to current Musical Theatre, visitors to the church were treated to a rolling performance of songs all delivered with style and confidence from our talented pupils. The informal recital ran throughout the afternoon and pupils gave impromptu and unrehearsed performances of demanding repertoire showing such flair. Performances were given by: Bjorn McG, Will C, Hannah B, Ferdy C, Millie T, Sophia M, Alice H, Bella B and Anna D. Representing Caterham Prep School, Sophia A in Year 4. Members of St. John's Church were keen to comment on the outstanding singing and the supportive nature demonstrated by all pupils, whatever their year group.
Our participation was a wonderful way to show our appreciation of St. John's Church who are always warm and hospitable to us when hosting concerts, rehearsals and recording sessions throughout the year. Well done to all performers on another musical triumph!
Back to all news