Special Guest Judge Bob Chilcott returns
Internationally renowned composer, Bob Chilcott is now patron of our annual Composition Competition. The theme this year is 'A World Apart'- chosen with the exciting Perseverance expedition to Mars in mind. This theme allows for pupils to explore a range of styles from film and sci-fi music to ideas of a metaphorical nature. Pupils may choose to compose lyrics as well as music and may use footage of the Mars landing as inspiration.
All pupils are welcome to take part in this project. There will be prizes ranging from vouchers from Yamaha Music, London and entries may be considered for The Chilcott Prize for Composition to be awarded at the end of the year.
Deadline for entries is Monday June 7 and should be sent to [email protected]
Adjudication by Bob Chilcott will be online before the end of term.
Rules of entry
* Open to all pupils at Caterham School
* Pupils in the First and Second Year may work in pairs (Third Year and above should work individually)
* Lyrics can be taken from anywhere (as long as they are credited)
* Compositions can be for any combination of instrumental, vocal or electronic forces
* Compositions can be in any style/genre but should be appropriate for a school (e.g. language/theme)
* Compositions should not exceed 6 minutes in length
* To enter, you should send the following to [email protected]
* Audio (MP3 file and can be recorded live or created electronically using software)
* Score/Commentary (this can range from a score to a brief outline of lyrics, chords or an explanation or how the composition was written
About Bob Chilcott
As a composer, conductor, and singer, Bob Chilcott has enjoyed a lifelong association with choral music, first as a chorister and choral scholar in the choir of King's College, Cambridge, and for 12 years as a member of the King's Singers.  He became a full-time composer in 1997, and has produced a large catalogue of music for all types of choirs which is published by Oxford University Press.  His most often performed pieces include Can you hear me?, A Little Jazz Mass, Requiem, and the St John Passion.  In March 2021 Songs my heart has taught me received its world première from the BBC Singers in a virtual ACDA National Convention.
Bob has conducted choirs in more than 30 countries worldwide and has worked with many thousands of amateur singers across the UK in a continuing series of Singing Days. For seven years he was conductor of the Chorus of The Royal College of Music in London and since 2002 he has been Principal Guest Conductor of the BBC Singers. In 2017 Bob was awarded an Honorary Fellowship by The Royal School of Church Music and in 2019 took up the role of Principal Conductor with Birmingham University Singers.
His music has been widely recorded by leading British choirs and groups including The King's Singers, King's College, Cambridge, Wells Cathedral, Westminster Abbey, The Sixteen, Tenebrae, The BBC Singers, The Bach Choir, Commotio, and Ora. In 2016 he enjoyed a collaboration with the celebrated singer Katie Melua on the album In Winter.  In 2017 two new discs were released by Commotio and Choralis – All Good Things on Naxos, and In Winter's Arms on Signum, his first recording collaboration with an American choir.  Newer recording projects are with the BBC Singers, Houston Chamber Choir, and Wroclaw Philharmonic Choir.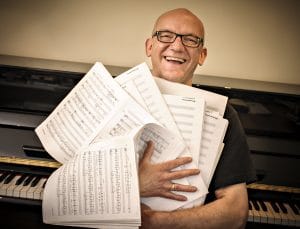 Back to all news