Teen Tech Challenges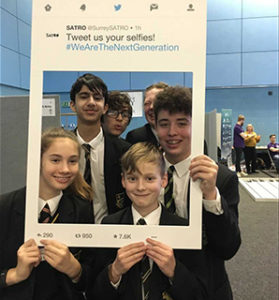 Last week, six Third Year pupils attended the Teen Tech Satro Festival at the Surrey Sports Park in Guildford. The festival brings together pupils from 50 schools across the region and 150 industry specialists from a range of companies, for a day of hands-on challenges and experiments.
To start the day, Teen Tech Satro gave pupils a design challenge. Pupils were asked to brainstorm ideas, select a project then divide up into production teams covering all aspects of the design process. Once an idea had been selected, they set about designing the details, establishing what components are required and the environmental impact of the product. They also had to come up with ideas for its promotion/marketing. Ideas were then presented to the assembled audience of 150 peers.
After the first challenge they had the opportunity to complete a variety of different challenges set by the various design companies. Ranging from the spaghetti tower challenge set by Fluor, a verbal recall challenge set by REME and further challenges set by MERU.
Pupils had an interesting experience with the adapted toys and were impressed with the simplicity of the challenges that had a huge impact on the children's ability to play independently with their toys.
At the end of the day, certificates were given out to each school for the first challenge and Caterham received theirs for the project entitled 'Top Tech Tinker' for the Self-Sufficient Car Design.
The pupils thoroughly enjoyed their day, and came away feeling really enthusiastic and felt that they had learned a lot!
Back to all news