The Wright Society Focuses on BMAT
The Wright Society has had its first meetings with both Lower and Upper Sixth during the last week, with Dr Wright in attendance helping put this year's Upper Sixth medics through their paces.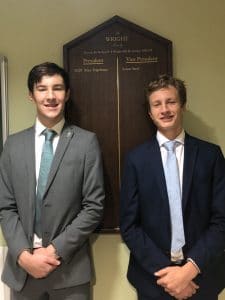 The Wright Society is set up to help Caterham Medics, Dentists and Vets achieve their dreams, and the resources developed are already second to none in the country.  We are proud to show off the new honours board now on display in the Biology department with current President Max F and Vice-President Louie S who have put in an enormous amount of work over the summer with Mr Quinton to have the society ready for this term.
This week's focus is on the BMAT exam (BioMedical Admissions Test), a gruelling test to help Universities including Oxford, Cambridge and Imperial, select which candidates to interview.  Candidates will take the exam on 4 November which comprises 3 papers testing Problem Solving and Critical Thinking, application of scientific knowledge in unfamiliar circumstances, as well as an essay testing the capacity to develop ideas and to communicate them effectively in writing – all important skills for aspiring medics.  In addition to Medics applying to Oxford, Cambridge and Imperial we have candidates applying for Biomedical Science at Oxford who also are required to take it.
Last week the pupils sat a full mock and attended an intensive full day course online to help prepare them.  This week Mr Quinton has organised another mock essay to have the pupils ready for some hard work over half term prior to taking the exam for real.  Good luck to all our BMAT candidates – Max F (Cambridge Medicine), Louis D (Cambridge Medicine), Jasmin K (Imperial Medicine), Venus H (Oxford Medicine), and Will K, Belva T, Sophie T and Cyrus L (Oxford Biomedical Science).
Back to all news