Train with the Senior England Lacrosse National Team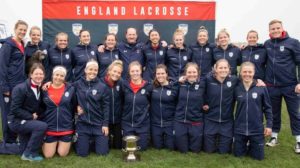 The England Senior Women's European Championship squad are running a Training day on Sunday 5 May in Aldershot to raise money ahead of the Women's European Championship in Israel this summer. The team includes our Head of Lacrosse, Miss Simpson, and will be an excellent opportunity for all #laxcats!
The coaching day is aimed at girls aged 10-16, based around an enjoyable day of lacrosse; developing your skills, learning new tactics and getting the chance to meet and talk with England Senior Internationals.
All the girls will then get the chance to watch the first Women's Super Sixes six-a-side match to be played in England with a free ticket as part of the clinic as the England Senior squad play the new version of the game.
The new six-a-side format, being proposed as the Olympic format for the Women's game, will be trialled by the Women's Euros squad for the girls in attendance to watch after the end of the coaching clinic.
The coaching clinic will run from 10.00am-1.00pm at Aldershot Garrison Sports Centre before the six-a-side match at 2.30pm, finishing around 4.00pm.
Cost: £25
Sign up here or on the England Lacrosse Website.
Back to all news