Two Medals at the Surrey Championships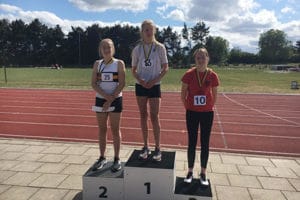 Caterham's rising athletes produce two medals at the Surrey School Championship. Amelia (Upper Sixth) won gold for the South Surrey District at the Intra-County meet and will now progress on to represent Surrey at the Regional Finals. Amelia's win came in the Senior Girls Hurdles an event that she has dominated on the circuit. Amelia has been a long standing member of the athletics team and is a keen club athlete too.
Jemima (Third Year) recorded a distance of 26.20m in the Junior Girls competition to win a silver medal and in the process smashed the 21-year-old school record by over a metre and a half! Jemima's work-rate in training and desire to improve has been inspirational to those training around her and we wish her luck in the Regional Finals.
Olivia (Fourth Year) and Rianna (Third Year) also posted respectable times and distances for their events; Hurdles and Javelin. Both girls managed to reach their respective finals in what is the most difficult county to represent.
Back to all news