U12 Rugby 7s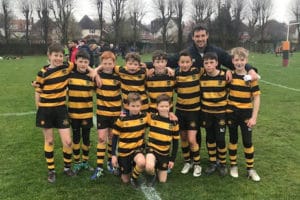 The U12 Rugby teams capped off a very successful season with superb performances at the Surrey 7s tournament last Friday. Out of the 36 teams that were in attendance we were one of only two schools to have a B team there. For a school with just 50 boys in the year (as opposed to over 150 at other schools) this is a brilliant achievement and is testament to the depth of talent in this year group.
The B team had a brilliant day, beating their Hampton equivalent 5-0, then drawing with St John's, Leatherhead and Reed's A teams. They were somewhat a victim of their own success; by finishing third in the group they went through to a tough tier of competition in the afternoon. But they continued to roll their sleeves up, got better and better, and competed brilliantly against strong A teams from Gordon's and Ibstock Place among others.
The A team, too, improved steadily throughout the day. They overcame Epsom College, CLFS and Christ's Hospital among others to win their group convincingly to put them into the very top tier of afternoon rugby. A narrow defeat to Hampton 10-5 was frustrating but showed just how good this team are (it was a game the boys could have won and Hampton went the day unbeaten). It was followed by a 5-5 draw against RGS, Guildford who had previous dispatched Dulwich College and John Fisher; again a game the lads were disappointed not to win. But a win did come in their last match of the day, this time against Trinity. The boys played some beautiful 7s and scored some memorable tries to record an excellent 10-5 victory. Well done to all involved. 
Back to all news