U13 Independent Schools National Finals – Bronze Medalists
Having had a fantastic season and cup run, beating notable opposition in Whitgift and Kingston Grammar on the way, this week the U13A team made the long journey up to the University of Birmingham for the School's maiden appearance at the Independent Schools National Finals event. After an overnight stay, the boys were full of energy and focus for the task ahead, a semi-final against Taunton School. The boys started well, creating chance after chance and snuffing out any opportunities for the Taunton attack. Unfortunately, we just could not find the finishing touch in the first or second half and, after a nervy last few minutes, a 0-0 draw was the final result. On to strokes and although the boys stepped up gallantly, ultimately we lost out in sudden death.
The boys were extremely disappointed, but they had to pick themselves up to go again in the bronze medal game against a strong King's Chester side. Pick themselves up they did, and the boys raced in to a 2-0 lead with some clinical finishing. A screamer from the backhand side of the King's centre forward nestled in to our top corner making the game 2-1 and bringing them right back in to it. A couple of minutes later we had the ball in the back of the net, but as we celebrated the umpire disallowed the goal, back stick was the call. A very tight last 5 minutes ensued, with King's scrambling a ball home from 1m out, 2-2. Going in to the final 2 minutes, Sam D. put his body on the line as he saved what looked like a certain goal inches from the line, taking a stick to the face as a result. As he watched nervously from the sideline and with 30 seconds to go, calamity struck, as King's again bundled a ball in to our goal, only for the umpire to again rule the goal out for back stick. The final whistle blew and sent the game to penalty strokes once again. This time there was to be a fairy tale ending as Arthur P., Yannick P. and Rory W. all slotted their strokes leaving Orin D. in goal to rubber stamp the result. He guessed the right way and kept out the final King's stroke to seal the win and bring home the bronze medal.
It was a phenomenal achievement from the team to get to the finals and an even bigger achievement to bring home the bronze medal. The future is very bright for this age group and for hockey at the school as we continue to push to qualify and compete for national finals in the future.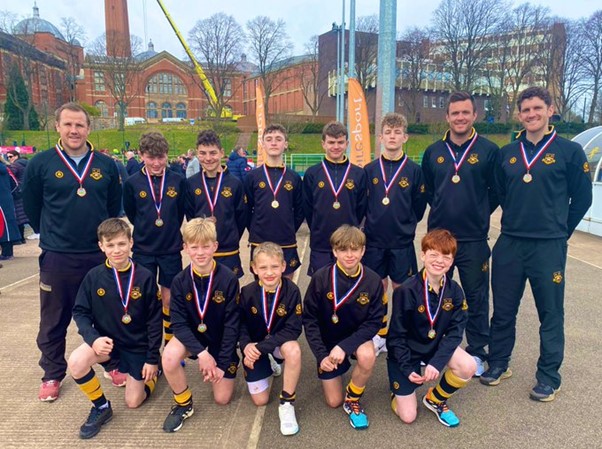 Back to all news