Undiscovered talents in lockdown
The Jonas Brothers agree!
From challenging times come stories of positivity, discovery, curiosity and new talents.
Yo-yo Z (Third Year) found a love of digital art through the Caterham Art online tutorials that started at the beginning of lockdown and still continue. Yo-yo chose to continue practising and refining her art and challenged herself to design a single cover for mega band The Jonas Brothers. The boys were so struck with Yo-yo's design that they featured it on their social media feed.
Well done Yo-yo and thank you to Mrs Veldtman and the Caterham Art department for providing such rewarding content for all our community to connect with during these unprecedented times. 
Catch up with all the art tutorials via Caterham Art on Instagram or via Caterham Connected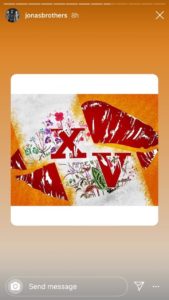 Back to all news