Wellbeing: Supporting Pupils & Parents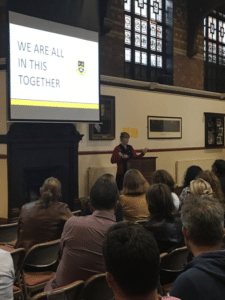 A fantastic Wellbeing evening for parents was held on Tuesday and focussed on helping our children thrive through the transition up to senior school. Breakout sessions were also held on growth mindset, E-safety, study skills, and managing challenge.
We received so many encouraging comments (including the below) from attending parents at the event and look forward to hold future such evenings in the future.
"I attended last night's transition evening at the school and found the sessions I attended very useful in light of this discussion – especially the session on building a growth mindset and resilience: some great, practical takeaways."
Back to Wellbeing page