A Day in the Life of iPad At Caterham School
Assembly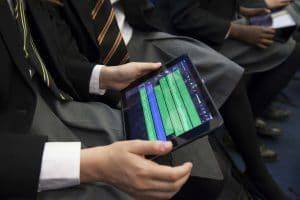 Assemblies are a crucial part of school life and whether they begin the day or set us up for the afternoon, our pupils and staff meet to discuss and explore interesting and important ideas. Often our assemblies will be interactive, and iPad gives us the opportunity to engage pupils and quickly get their feedback or opinions on subject matters. So whether we are using a Kahoot to create fun competition between tutor groups or houses, or Padlet to gather pupil opinion, we are frequently interacting and responding to each other's ideas.
Today's Lessons
Teachers are given a great deal of freedom when it comes to making the most of iPad in the classroom. Different subjects and different year groups will leverage different elements of what the iPad can offer pupils in terms of unique teaching and learning experiences. What follows is a sample of some of what we might get up to with iPad in the classroom.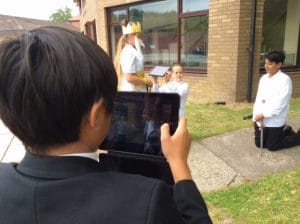 Story-telling and literary analysis go hand in hand for our English department. Pupils are as confident using iPad to dissect a complex poem as they are re-imagining a classic tale. When analysing a text they might use the 'screen record' function to talk over a Keynote or PowerPoint presentation, Explain Everything to add other media content, or they might film themselves discussing the text and its key quotations. From there pupils may edit their films in iMovie and share them with the class for feedback. Alternatively, they may get out of the classroom and begin re-telling, or even create from scratch, new stories which demonstrate story-telling devices or literary techniques which they have read about in class. Again, pupils are able to create in new ways, simply by using the Camera app and iMovie, producing high quality and engaging work which can easily be shared with a wider audience.
Increasingly the department is also distributing books through iBooks via our Mobile Device Management system as a more environmentally friendly way of allowing pupils to engage with a wide variety of texts.
Business Studies & Economics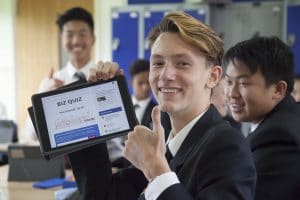 Some of our older pupils might find that the use of tools like Socrative and Nearpod make learning new and sometimes complex content, easier and more accessible. Frequent low-stakes tests help pupils get a true sense of where they are on their own learning journey and delivering content in an interactive way using tools like Nearpod where pupils can quickly add to and share ideas with the class, means that the iPad is a central, but subtle part of the learning experience.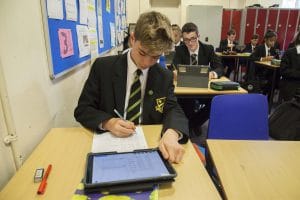 The Maths department have embraced many of the tools available for iPad, whether that is through writing their own Maths textbook for some of our Lower School classes, available to them as an iBook, or using apps like Desmos and Pythagorea, the department has been a champion for using technology in ways which have been impactful and meaningful. Pupils make notes which can be quickly checked by their teacher from anywhere, meaning that they get feedback on their progress when they need it.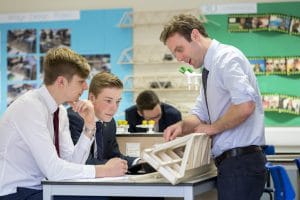 Bringing conceptual information to life is the bread-and-butter job of a physics teacher and our staff are experts at doing just that. Tools like Playground Physics is a kind of AR which can overlay real life to demonstrate the physics happening in front of your eyes. Combined with other outstanding opportunities like data loggers and the versatile Clips app, pupils can record and explain their learning as it happens, capturing their own experiences of the subject, rather than reading about it second-hand.
Astronomy as an optional GCSE has benefitted hugely form technological developments over the last few years, not least because of AR-enabled technology which allows pupils to understand what they are seeing when they look up at the sky. Apps like GoSkyWatch and StarWalk have helped bring the galaxy a little closer.
The Computer Science department has been at the forefront of innovation in the school for many years and this has continued in the breadth of the opportunities available to budding coders and computer scientists. App development has been available via our Mac Suite using xCode as part of the A Level, alongside game development using Unity. In order to help pupils along this journey, lower school pupils have been guided through Swift Playgrounds which allows them to move from theoretical to practical coding very quickly, culminating with the opportunity to fly drones and control other physical add-ons form their iPad, using the coding they have learnt in the app.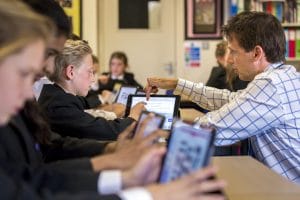 The MFL department has been a great user of technology for many years, stretching back to its highly effective use of a language lab, filled with computers which allowed pupils to listen and record in their target languages. With the advent of iPad, the department quickly realised that they could be far more agile. Gone is the room full of computers – now pupils can listen and record, write and in fact speak with native speakers across the globe, all through their device. We make great use of language assisting apps like Duolingo and Linguascope, but most importantly the use of things like Clips and FaceTime mean that pupils can be exploring new languages all the time and engaging with experts at the press of a few buttons. Feedback can come from teachers, peers or native speakers at other schools and end up in the same place, meaning that they have more opportunity than ever to develop their skills.
Games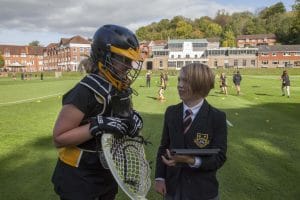 Our staff and pupils have found that iPad has been just as useful outside of the classroom as it is inside. Pupils regularly use iPad to monitor and log their progress in the various sports and outdoors learning that they participate in. The images below are a snapshot of the ways in which we see pupils collaborating to ensure that they make progress, and that they can be analytical and reflective in the way in which they approach exercise and their physical development. iPad allows them to use apps ranging from simple tools such as the camera and stopwatch, through to more sophisticated tools like Coach's Eye, which allow for thorough, frame-by-frame analysis.
The Co-curriculum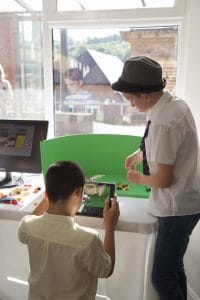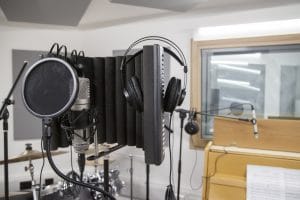 The co-curricular offer at Caterham School is diverse and exciting. If you can think of an activity, the chances are we probably facilitate it. iPad supports a number of activities, some obvious some less so, but always in a meaningful, central, but unobtrusive way.
Film Club operates out of our purpose-designed Innovation Centre and iPad allows pupils to immediately get to grips with the most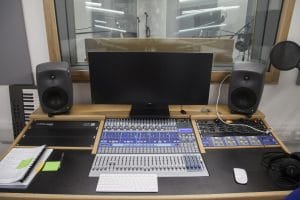 important part of this club – filming and editing. As pupils develop their skills, they might move on to other cameras and then edit their footage on iMacs, using industry-standard software.
Similarly, with our Animation Club and Lego Mindstorms, the barriers for entry are minimal, as pupils are using a device they are already familiar with, to extend their learning into new areas.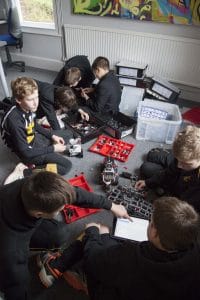 Pupils are using iPad to create new things all the time. Never was this better demonstrated than through the various online publications that have been curated and shared as iBooks, such as our Minds Eye and Cat Amongst The Pigeons magazines, where pupils contribute to and edit content.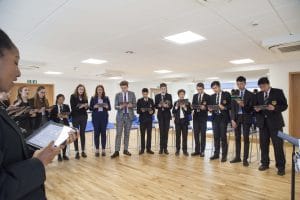 We didn't necessarily expect to see the iPad popping up in choir rehearsals, but as a faculty, the Music department are huge advocates of the use of technology; this can be seen in their music tech quite where pupils regularly use GarageBand, Logic Pro and Sibelius to create and edit music, as well as a stunning recording studio with a Mac Mini driving the hardware. iPad is used in lieu of music stands and sheet music on a regular basis to complete the technological revolution in the department.
Homework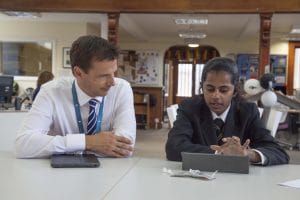 All homework for pupils is set via Firefly, our school's LMS, meaning that pupils need to learn to manage a digital diary, alongside their calendar and timetable. Every evening pupils will use their iPad to review what work they need to complete and then decide the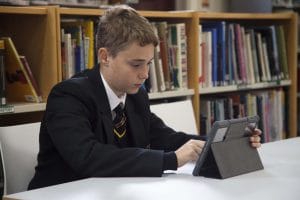 most effective way to complete this. All pupil work ends up stored on the cloud, accessible form their iPad, but as part of our teaching and learning programme, we teach our pupils about metacognition and, having designed a bespoke 'reflections' app, pupils are able to regularly review their progress and consider how they could produce work in ways that work for them.