EDGE Innovation & Digital Curriculum
Ensuring that our pupils have the skills and knowledge to thrive in a fast-changing world, is one of our core priorities.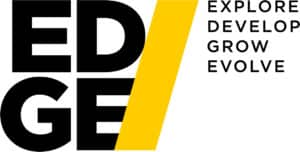 From the First Year to the Sixth Form, pupils follow our EDGE innovation curriculum, which stands for Explore, Develop, Grow, Evolve. EDGE is built upon three central elements: Learning to Learn, Big Ideas and Practical Problem-Solving. Each year group will experience these elements in different and challenging ways, whether that's through the Theory of Knowledge and Critical Thinking (Learning to Learn), the environment and communication (Big Ideas) or the School in a Box and Circular Economy projects (Practical Problem-Solving), the EDGE curriculum builds up a wealth of ideas, knowledge and skills which our pupils can put into action in lessons, in their day-to-day lives and to inspire them to face challenges with the tools to overcome, redesign and rethink any problem they choose to tackle.
The EDGE Curriculum begins in the First Year, with a focus on metacognition and developing the ability to conduct effective self-reflection and culminates in the Sixth Form with pupils participating in seminars from world-leading experts in fields as varied as ethics, activism and Artificial Intelligence.
EDGE enables our pupils to develop skills for today and the future. The skills we focus on are informed by research and by working with organisations across the world, ensuring that we are constantly adapting and developing our work allows our pupils to succeed in whatever they choose to do.
Some of the skills developed through the EDGE curriculum: